I had a terrific weekend. I just wish it would last another 90 days or so ;) It started out Saturday morning with a drive down to Atlanta for the
Atlanta Modern Quilt Guild
meeting. My new friend Cindy, from Spin the Bobbin
, told me about it so I went to check it out. It was really fun! A lot of very nice women meeting to talk about their projects, charity projects, etc...plus an interesting speaker, Rashida Coleman-Hale from
I Heart Linen
. She has a fantastic book (Zakki Style) and the most gorgeous fabric line (Washi, below...don't you LOVE it??) - and she shared a little about how she got started in all that, how it works in her day to day life, etc. She was sweet and self-effacing, and I really enjoyed her talk.
After the meeting (I joined up!) I did a little shopping at the shop where the meeting was held - Intown Quilters. They are having a special challenge getting ready for the Atlanta area Shop Hop coming up this spring. They want quilts to 'show' for their
County Fair theme. So if you buy fabric from a current line and a pattern then bring it in to them by Feb. 26th so they can 'show' it, you get a gift certificate for 100% of your purchase. So, free quilts! I got a pattern called Unwind and 1/6 of a yard of 18 different fabrics from the A Stitch in Color line. I also picked up the Lazy Angle ruler that I've been wanting (yay!!!)...
I picked a pattern that uses it, because I have another couple of patterns that call for it so I know I'll be able to use it a lot. And I was able to cut carefully so I can get 2 sets of the 36 blocks needed to make a baby sized quilt from it. I could do 1 youth sized quilt with the 72 blocks but I only bought enough of the coordinating fabric for the back/binding of a baby size. Maybe I'll save the extra blocks and buy enough fabric with the gift certificate to make enough more for a larger size. Although I was pretty set on getting some of that yummy Washi. Hmmmm. Maybe 2 baby quilts will be fine, lol.
Aren't the colors pretty?????? It's so bright and happy!
I also bought some fabric to make a birthday surprise for my daughter's birthday. These three Harry Potter pillows by the flipping genius who owns
this etsy shop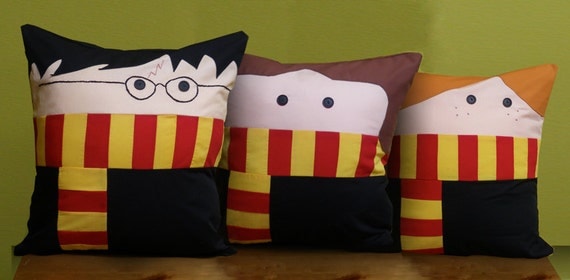 Of course, I couldn't buy plain fabric for it, I had to get some with at least a little bit of a print in i5, lol. I'm going to copy her beautiful creations ... hope she doesn't mind. Imitation IS the most sincere form of flattery, right? But you should definitely go over and buy a set from her, okay?
Finally, I have some fat quarters to show you, but forgot to get a photo. They are from the ATL MQG - a challenge with a really cute block called Shooting Stars. I'll bring it next time. I think I'll have my new charm pack by then too - the one I won from April at Kool Beanz. I got an email from Stephanie at
The Fat Quarter Shop
letting me know that my order had shipped out. I had to write her back to tell her what a shock it gave me...I told her it was a progression from confusion wondering what I'd ordered, then fear that I'd ordered something and didnt' remember it, then terror that I'd begun fabric shopping in my sleep, and finally relief when I remembered it Kol Beanz giveaway! Added zing to my work day, lol.
Okay, off to bed now...see you soon, with pics!